Concerts
---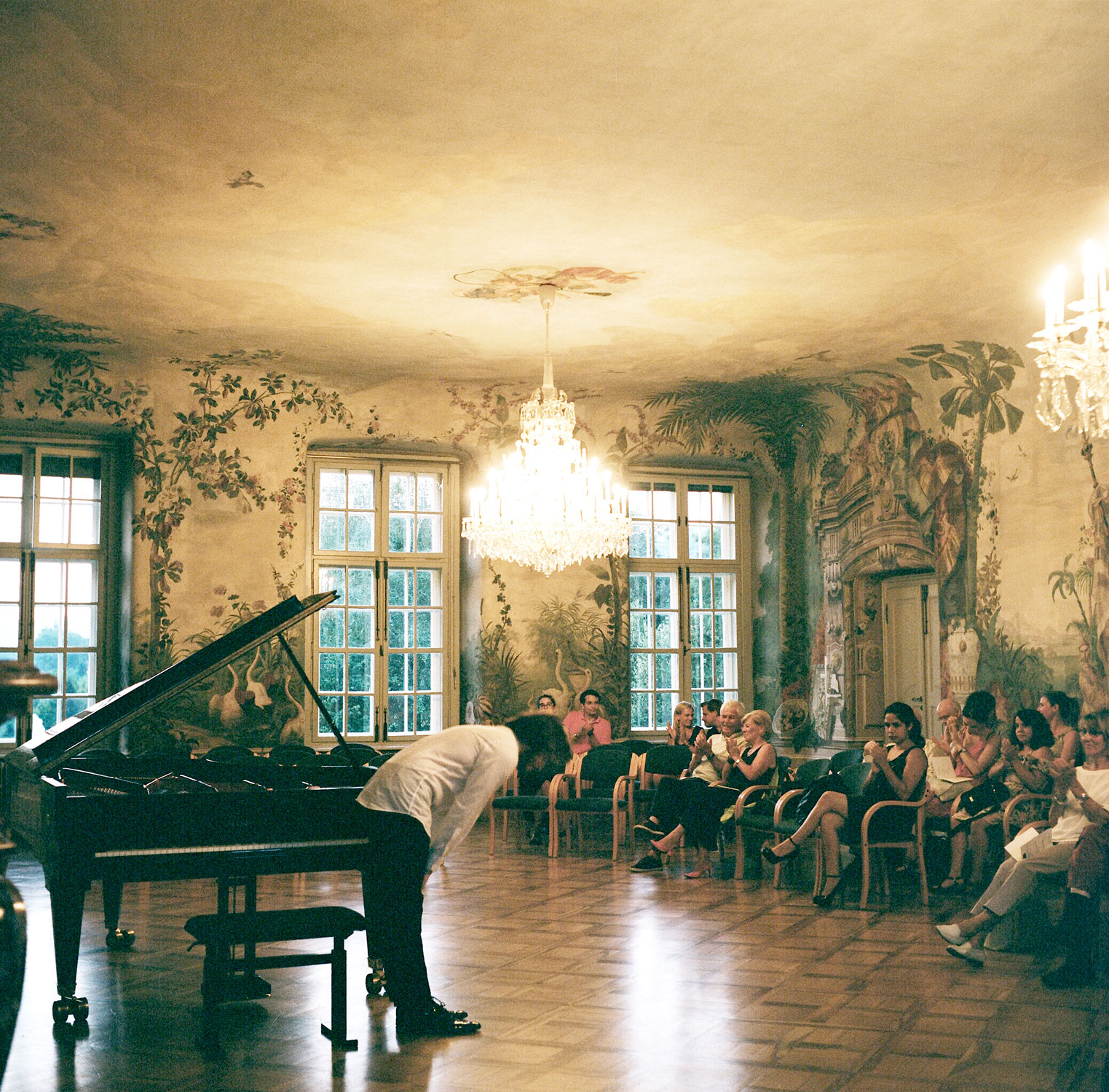 ---
Subject to short termed changes of the concert schedule; please check this website in time.
All concerts take place in Freskensaal Schloss Laudon, Mauerbachstr. 43-45, 1140 Vienna.
The entrance is free, donations are collected for EMIV scholarship fonds.
Due to limited seats, reservation by email is strongly recommended.
If you want to be regularly informed about our concerts or any changes of schedule, please write us an email.
---
Special Concerts
23.07. 19:30 | À la recherche
Lecture-Concert with French Chamber Music of Debussy, Ravel, Jolivet and Hurel
Antonia Sinko & Letícia Maia-Durante (Flutes), Sandra Seržāne (Violin), Samuel Mittag (Viola), Benedikt Sinko (Cello), Marianne Salmona (Piano), Zsofia Kiss (Harp)
Lecture: Antonia Sinko
25.07., 19:30 | Piano Recital
Martin Hughes plays Beethoven, Brahms and Schubert
Final Concerts of the Master Course Participants
11.07., 19:30 | Vladimir Kharin, Piano
12.07., 17:00 | Wladislaw Winokurow, Vienna Violin Camp for Kids
14.07., 11:30 | Jörg Birhance, Conducting - WienSinfonietta: Haydn, Mozart, Wellesz
18.07., 19:30 | Stephan Möller, Piano
21.07., 17:00 | Pavel Vernikov & Svetlana Makarova, Violin
21.07., 19:30 | Francisco Araiza, Lied, Oratorium, Oper
25.07., 17:00 | Milana Chernyavska, Piano
28.07., 11:30 | Claudia Visca, Lied, Oratorium, Oper
28.07., 17:00 | Miklós Perényi, Cello
28.07., 19:30 | Rudolf Piernay, Lied, Oratorium, Oper
30.07., 17:00 | Martin Hughes, Piano (I)
30.07., 19:30 | Martin Hughes, Piano (II)
01.08., 17:00 | Kirill Troussov, Violin
04.08., 18:00 | Gertrud Weinmeister, Viola
05.08., 19:30 | Snezana Stamenkovic, Lied, Oratorium, Oper
06.08., 17:00 | Henja Semmler, Violin
06.08., 19:30 | Uta Schwabe, Lied, Oratorium, Oper
07.08., 18:00 | Balász Szokolay, Piano
08.08., 18:00 | Christa Bützberger, Piano