[vc_row padding_top="0px" padding_bottom="0px"][vc_column fade_animation_offset="45px" width="1/4″]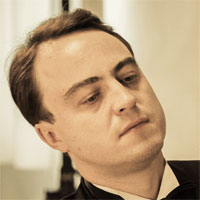 [/vc_column][vc_column fade_animation_offset="45px" width="3/4″]
Piano
[/vc_column][/vc_row][vc_row padding_top="0px" padding_bottom="0px"][vc_column fade_animation_offset="45px" width="1/2″]
15 – 19 July
[/vc_column][vc_column fade_animation_offset="45px" width="1/2″][/vc_column][/vc_row][vc_row padding_top="0px" padding_bottom="0px"][vc_column fade_animation_offset="45px" width="1/1″]
Vladimir Kharin began his musical education at the age of 6 years at the central music special school of Moscow Tchaikovsky Conservatory for especially gifted children. He gave his first piano recital at the age of eleven and made his orchestra debut at the age of 13.
He then studied at the Moscow Tchaikovsky Conservatory with Jevgeni Malinin and Lev Naumov (both students of Heinrich Neuhaus), which he graduated with distinction. Further study and "Konzertexamen" (also with distinction) with Michael Roll and Boris Bloch at the Folkwang Hochschule Essen in Germany, as well as master classes with Vitaly Margulis, Oleg Maisenberg and Dmitri Bashkirov.
Vladimir Kharin was invited to the concert halls of Germany, the CIS states, France, Italy, Japan, China and Indonesia as a laureate of international competitions with recitals and chamber music, as well as concerts with orchestra.
He has appeared several times with recitals at the Ruhr Piano Festival and has recorded several CDs, including the Duisburg Philharmonic Orchestra under the baton of Jonathan Darlington.
Vladimir Kharin focuses on his teaching activities, which he began in 2005 at the Folkwang University of the Arts as an assistant to Boris Bloch. Since 2009 he has been teaching a piano class for particularly gifted children and young people at the University of Music and Performing Arts Vienna.
His students attracted attention at international competitions with several first prizes.
Kharin's international reputation as a pedagogue, confirmed by various awards, made him a demanded jury member at competitions and led him regularly through Europe, as well as to the Far East with concerts and master classes.
[/vc_column][/vc_row][vc_row padding_top="0px" padding_bottom="0px"][vc_column fade_animation_offset="45px" width="1/1″]
Intensive Course: Daily lessons for a maximum of 10 accepted participants.
Program and Preparation: the international concert repertoire. At least 3 works by different composers, one work from Viennese Classics is recommended.
Qualification: adequate mastery of the instrument. Please send in a web-based tone/video document along with your application.
Languages: German, English, Russian
[/vc_column][/vc_row][vc_row padding_top="0px" padding_bottom="0px"][vc_column fade_animation_offset="45px" width="1/1″]
Terms and conditions of participation
[/vc_column][/vc_row][vc_row padding_top="0px" padding_bottom="0px"][vc_column fade_animation_offset="45px" width="1/1″]
Dates
| | | | | |
| --- | --- | --- | --- | --- |
| July 15, 2018 | to | July 19, 2018 | | |
Prices
| | |
| --- | --- |
| Early bird | €590,00 |
| Regular course | €630,00 |
| Late registration | €630,00 |
| Passive Participation | €220,00 |
Hosted By
[:en]European Music Institute Vienna[:de]Europäisches Musikinstitut Wien[:]
Kandlgasse 5a/1
Wien 1070
+43 676 385 3744
Visit Website
Instructor
More
| | | |
| --- | --- | --- |
| July 15, 2018 - July 19, 2018 | | |
| Early bird | €590,00 | |
| Regular course | €630,00 | |
| Late registration | €630,00 | |
| Passive Participation | €220,00 | |
[/vc_column][/vc_row]