[vc_row padding_top="0px" padding_bottom="0px"][vc_column fade_animation_offset="45px" width="1/4″]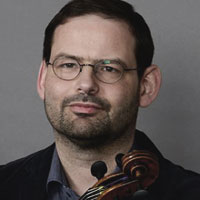 [/vc_column][vc_column fade_animation_offset="45px" width="3/4″]
Viola
[/vc_column][/vc_row][vc_row padding_top="0px" padding_bottom="0px"][vc_column fade_animation_offset="45px" width="1/2″]
15 – 19 July
N.N., Piano
[/vc_column][vc_column fade_animation_offset="45px" width="1/2″][/vc_column][/vc_row][vc_row padding_top="0px" padding_bottom="0px"][vc_column fade_animation_offset="45px" width="1/1″]
Sebastian Herberg has recently been appointed Professor for Viola at mdw Universität für Musik und darstellende Kunst Wien, and also continues his engagement as solo viola at Dresdner Staatskapelle.
He studied with Thomas Wünsch and Alfred Lipka in Weimar and Berlin, where he was solo viola of Konzerthausorchester Berlin, and served in this position at Schleswig-Holstein Festival Orchestra in 1989 and 1990 under Leonard Bernstein and Sir Georg Solti.
1994 he became solo viola at Dresdner Staatskapelle. As soloist he performed with Michael Sanderling, Sakari Oramo and Fabio Luisi.
He has always been a dedicated teacher, i.e. at the orchestra academy of Dresdner Staatskapelle and at Music Academy Dresden, as well as from 2010-2012 as visiting professor of the Pacific Music Festival and 2016 at the orchestra academy of Schleswig Holstein Music Festival.
As solo viola of Dresdner Kapellsolisten he performs since more than 20 years in important concert halls like Berliner Philharmonie and New Opera Hall Tokyo.
He is also founding member of the highly acclaimed Dresdner Streichtrio.
[/vc_column][/vc_row][vc_row padding_top="0px" padding_bottom="0px"][vc_column fade_animation_offset="45px" width="1/1″]
Program and Preparation: the international concert repertoire. At least 3 works by different composers, one work from the epoch of Viennese Classics is recommended.
Qualification: adequate mastery of the instrument. Please send in a web-based tone/video document along with your application.
Languages: German, English
[/vc_column][/vc_row][vc_row padding_top="0px" padding_bottom="0px"][vc_column fade_animation_offset="45px" width="1/1″]
Terms and conditions of participation
[/vc_column][/vc_row][vc_row padding_top="0px" padding_bottom="0px"][vc_column fade_animation_offset="45px" width="1/1″]
Prices
| | |
| --- | --- |
| Early bird | €590.00 |
| Regular course | €630.00 |
| Late registration | €630.00 |
| Passive Participation | €220.00 |
More
| | | |
| --- | --- | --- |
| July 15, 2018 - July 19, 2018 | | |
| Early bird | €590.00 | |
| Regular course | €630.00 | |
| Late registration | €630.00 | |
| Passive Participation | €220.00 | |
[/vc_column][/vc_row]