[vc_row padding_top="0px" padding_bottom="0px"][vc_column fade_animation_offset="45px" width="1/4″]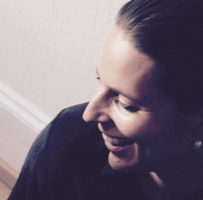 [/vc_column][vc_column fade_animation_offset="45px" width="3/4″]
Basics for the 21th Century Artist
[/vc_column][/vc_row][vc_row padding_top="0px" padding_bottom="0px"][vc_column fade_animation_offset="45px" width="1/2″]
23 & 24 July
3:30 p.m. – 6:30 p.m.
Stefanie C. Braun
[/vc_column][vc_column fade_animation_offset="45px" width="1/2″][/vc_column][/vc_row][vc_row padding_top="0px" padding_bottom="0px"][vc_column fade_animation_offset="45px" width="1/1″]
Stefanie Braun has been singing and living music all her life. Being born in a hospital on Richard Wagner Street probably set her on the path.
In high school, she set out to organize various rehearsal weeks for the school chorus she also sang in and has been hooked on both sides of the arts ever since.
Having studied classical singing in Venice, Italy, at the prestigious Conservatorio Benedetto Marcello she also holds masters degrees at the Universities of Zurich (EMAA) and Salzburg (MBA) in both arts administration and international cultural management.
While she does have a typical singers career (Operastudio Zurich, Washington National Opera, Landestheater Salzburg) she is very happy to have become the sum of all her parts and enjoys a large "portfolio career," a term she discovered when she was visiting Longy School of Music of Bard College to research Longy's curriculum an ultimately become part of the guest lecturers there (teaching Musical Entrepreneurship and a masterclass in bodywork and dramatic arts for singers).
She has been curating a series of musical events for various museums in Germany and Switzerland, founded her own opera company, wrote for Vogue and AD, is managing a youth orchestra and has just invented an academy of contemporary music at the Künstlerhaus Boswil in Switzerland.
She fervently believes artists can make exceptional entrepreneurs thanks to their creative take on life, and make a difference in society musically AND in any other aspect of life: Anything outside of music will ultimately enrich your artistry and vice versa – go for it!
[/vc_column][/vc_row][vc_row padding_top="0px" padding_bottom="0px"][vc_column fade_animation_offset="45px" width="1/1″]
Nowadays in the world of a 21st century artist, there is no obvious path to "making it" in this world. We all need to start to think differently about what we need to do to build a career and make a living while not loosing the passion for what they do. As musicians we have a powerful part in creating art, giving the audience moments of joy, providing comfort, creating moments of magic and so much more. In our days however, being an excellent musician isn't enough anymore. We must be able to spot opportunities and make something happen with the resources we have.
Program: This class is thought to prepare musicians to think outside of the box of music and understand themselves as the entrepreneurs they actually already are – all of us take care of self marketing, PR and our own budget. In this class we are taking it to the next level and will prepare for the ever changing challenges we face as musicians in the world of the arts of today. Over two afternoon intensives, we will explore what it means to be an entrepreneur, investigate examples of entrepreneurship, and execute a series of exercises that explore who we are as musician-entrepreneurs. Inspirational talks and hands-on tools will provide us with a deeper understanding of musical entrepreneurship and will help us to bring some of our long dreamed projects to life.
Objectives: The goal of this class is, that you will start on your journey of musical entrepreneurship with some concrete skills and a basic understanding of what we as artists are capable of.
Preperation: Class material will be provided in form of PDF and links in due course before the event takes place. Preparation is required and is anticipated to take a total of one afternoon maximum. If you have a project you have been working on, you are welcome to share the idea and have it challenged in order to progress it further.
Languages: English, German, Italian
[/vc_column][/vc_row][vc_row padding_top="0px" padding_bottom="0px"][vc_column fade_animation_offset="45px" width="1/1″]
Terms and conditions of participation
[/vc_column][/vc_row][vc_row padding_top="0px" padding_bottom="0px"][vc_column fade_animation_offset="45px" width="1/1″]
Prices
| | |
| --- | --- |
| Regular | €80.00 |
| Additional to another EMIV Master Course | €30.00 |
More
| | | |
| --- | --- | --- |
| July 23, 2018 - July 24, 2018 | | |
| 3:30 PM - 6:30 PM | | |
| Regular | €80.00 | |
| Additional to another EMIV Master Course | €30.00 | |
[/vc_column][/vc_row]