[vc_row padding_top="0px" padding_bottom="0px"][vc_column fade_animation_offset="45px" width="1/4″]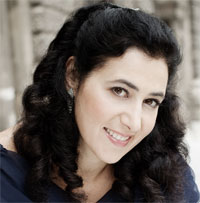 [/vc_column][vc_column fade_animation_offset="45px" width="3/4″]
Piano & Chamber Music
[/vc_column][/vc_row][vc_row padding_top="0px" padding_bottom="0px"][vc_column fade_animation_offset="45px" width="1/2″]
08 – 13 July
[/vc_column][vc_column fade_animation_offset="45px" width="1/2″][/vc_column][/vc_row][vc_row padding_top="0px" padding_bottom="0px"][vc_column fade_animation_offset="45px" width="1/1″]
Milana Chernyavska, a German artist with Ukrainian roots, has established herself as one of the leading pianists of our times, already looking back on an impressive career.
At the age of seven, she played her first concert at the Philharmonic Hall in her native town of Kiev. In 1990, she graduated with distinction from the State Tchaikovsky Conservatory, where Prof. W. Sagaidachny was her teacher. This was followed by master classes with renowned teachers and famous pianists, including Alfred Brendel, D. Bashkirov, W. Krainev, Sergio Perticaroli, Boris Bloch, Dario de Rosa and Alexander Lonquich. In 1994 Milana Chernyavska received the most important award of her homeland, "Merited Artist of the Ukraine". From 1995 to 1998 she joined the master classes of Prof. Margareta Höhenrieder and Prof. Gerhard Oppitz at the Munich Music Academy.
Milana Chernyavska appears regularly at international festivals and major music centers around the world, such as the Lucerne Festival, the Rheingau Music Festival, Schleswig-Holstein Music Festival, Festival Mecklenburg-Vorpommern, Schwetzingen Festival, and at halls like Vienna's Musikverein, Amsterdam's Concertgebouw, Tokyo's Suntory Hall, Munich's Herkulessaal, London's Wigmore Hall, New York's Carnegie Hall, and St Petersburg's Philharmonic Hall.
Apart from her solo career, Milana Chernyavska is a celebrated chamber musician. As a recital partner, she appears regularly with artists like Julia Fischer, Lisa Batiashvili, Arabella Steinbacher, Sebastian Klinger, Maximilian Hornung, Daniel Müller-Schott, Susanna Yoko Henkel, David Garrett, the Vogler Quartet and others. The Milander Quartett, which she founded, has quickly developed into a sought-after ensemble.
As a soloist, Milana Chernyavska performs with many renowned orchestras, while audiences and critics cheer her solo recitals. In 2013, she performs at the Piano Festival Ruhr, among others.
She was appointed professor of piano performance at the University of Music and Performing Arts in Graz in 2009. Her doctoral thesis in musicology dealt with the judgemental and pedagogical aspects of interpretation theory.
[/vc_column][/vc_row][vc_row padding_top="0px" padding_bottom="0px"][vc_column fade_animation_offset="45px" width="1/1″]
Intensive Course: Daily lessons for a maximum of 10 accepted participants.
Program and Preparation: the international concert repertoire. At least 3 works by different composers, one work from Viennese Classics is recommended.
Qualification: adequate mastery of the instrument. Please send in a web-based tone/video document along with your application.
Languages: German, English
[/vc_column][/vc_row][vc_row padding_top="0px" padding_bottom="0px"][vc_column fade_animation_offset="45px" width="1/1″]
Terms and conditions of participation
[/vc_column][/vc_row][vc_row padding_top="0px" padding_bottom="0px"][vc_column fade_animation_offset="45px" width="1/1″]
Dates
| | | | | |
| --- | --- | --- | --- | --- |
| July 8, 2018 | to | July 13, 2018 | | |
Prices
| | |
| --- | --- |
| Early bird | €590,00 |
| Regular course | €630,00 |
| Late registration | €630,00 |
| Passive participation | €220,00 |
More
| | | |
| --- | --- | --- |
| July 8, 2018 - July 13, 2018 | | |
| Early bird | €590,00 | |
| Regular course | €630,00 | |
| Late registration | €630,00 | |
| Passive participation | €220,00 | |
[/vc_column][/vc_row]