[vc_row padding_top="0px" padding_bottom="0px"][vc_column fade_animation_offset="45px" width="1/4″]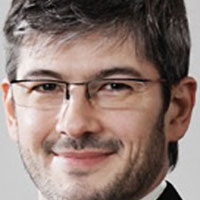 [/vc_column][vc_column fade_animation_offset="45px" width="3/4″]
Choir Conducting
[/vc_column][/vc_row][vc_row padding_top="0px" padding_bottom="0px"][vc_column fade_animation_offset="45px" width="1/2″]
19 – 21 July
[/vc_column][vc_column fade_animation_offset="45px" width="1/2″][/vc_column][/vc_row][vc_row padding_top="0px" padding_bottom="0px"][vc_column fade_animation_offset="45px" width="1/1″]
Marco Ozbic graduated in piano at the Conservatorio G. Tartini in Trieste, before studied orchestral conducting (Uroš Lajovic), correpetition (Harald Goertz), composition (Francis Burt and Michael Jarell), music theory (Diether de la Motte) at mdw Music University Vienna. He graduated in 1995 in choral conducting with Prof. Günther Theuring.
In 1995 he became Kapellmeister of the Vienna Boys Choir, which he conducted in more than 600 concerts in Europe and the USA.
In 1998 he took over the direction of the Vienna Jeunesse Choir, founded by Günther Theuring.
In 1999 he was appointed to the Vienna State Opera as deputy choir director and artistic director of the Opera School. In 2001 he was engaged at Salzburg Festival.
Marco was engaged from 2005 on as choir director and guest conductor at the Teatro di San Carlo in Naples, where he conducted the Italian premiere of Hans Werner Henze's "Muses Siciliens" together with the pianists Andrea Lucchesini and Pietro de Maria. Also in 2005, he won the "Victor de Sabata" conducting competition at the Teatro Verdi in Trieste.
Marco has been working as a choir director and guest conductor at the Finnish State Opera in Helsinki since 2011 and has given guest performances at the Ópera de Monte-Carlo, the Royal Theatre in Copenhagen, Ópera de Lyon and the National Centre of the Performing Arts in Beijing.
He has conducted the orchestras of the Teatro di San Carlo (Naples), the Teatro Verdi (Trieste), the Slovenian State Opera, the Finnish State Opera and the Slovenian Philharmonic.
He is a founding member of "Il Corpo Cantante" in London (under the patronage of Paul Esswood) and teaches at numerous courses and master classes for singers, instrumentalists and conductors in England, Italy, France, Austria and Finland.
[/vc_column][/vc_row][vc_row padding_top="0px" padding_bottom="0px"][vc_column fade_animation_offset="45px" width="1/1″]
Program and Preparation: The course is designed for beginning and advanced choir and orchestra conductors who want to deepen their musical knowledge and improve their conducting skills. The program will be analyzed, rehearsed and performed with chamber choir/vocal ensemble.
Conducting technique, score analysis, voice technique and voice formation, rehearsal technique, phrasing, style and interpretation.
Repertoire:
Nicholas Gombert: Motet "In illo tempore" 5v
Claudio Monteverdi: "Laudate pueri" a 5 da Cappella (from Messa a 4 voci et Salmi op. posth.) Ed. Malip. XVI/I, "Laetatus sum" a 5 da Cappella (from Messa a 4 voci et Salmi op. posth.) Ed. Malip. XVI/II
Johann Sebastian Bach: Motet "Jesu meine Freude", BWV 227
Egon Wellesz: Missa brevis op. 89
Anton Heiller: Motets "O Jesu, all mein Leben bist du", "Schönster Herr Jesus" (1951), "Seele Christi, heilige mich" (1951)
Qualification: adequate prior training as choir and/or orchestra conductor. Please send in a c.v. along with your application.
Languages: German, English, Italian, Spanish
[/vc_column][/vc_row][vc_row padding_top="0px" padding_bottom="0px"][vc_column fade_animation_offset="45px" width="1/1″]
Terms and conditions of participation
[/vc_column][/vc_row][vc_row padding_top="0px" padding_bottom="0px"][vc_column fade_animation_offset="45px" width="1/1″]
Prices
| | |
| --- | --- |
| Early bird | €590.00 |
| Regular course | €630.00 |
| Late registration | €630.00 |
| Passive Participation | €220.00 |
More
| | | |
| --- | --- | --- |
| July 19, 2018 - July 22, 2018 | | |
| Early bird | €590.00 | |
| Regular course | €630.00 | |
| Late registration | €630.00 | |
| Passive Participation | €220.00 | |
[/vc_column][/vc_row]