[vc_row padding_top="0px" padding_bottom="0px"][vc_column fade_animation_offset="45px" width="1/4″]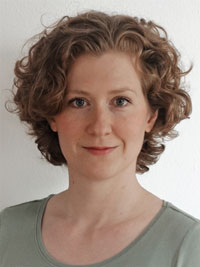 [/vc_column][vc_column fade_animation_offset="45px" width="3/4″]
Feldenkrais
[/vc_column][/vc_row][vc_row padding_top="0px" padding_bottom="0px"][vc_column fade_animation_offset="45px" width="1/2″]
11 July – 09 August
[/vc_column][vc_column fade_animation_offset="45px" width="1/2″][/vc_column][/vc_row][vc_row padding_top="0px" padding_bottom="0px"][vc_column fade_animation_offset="45px" width="1/1″]
Lisa has been working with the Feldenkrais method for over ten years. She completed her 4-year training at the Feldenkrais Institute Vienna, and since continues to educate herself in-depth. Among her teachers are Miriam Pfeffer, Carl Ginsburg, Jerry Karzen, Jeremy Krauss and Aliza Stewart, a concert pianist, who specializes in the work with musicians.
The human body as an instrument of expression has always been a strong focus in Lisa's work, since she has a background in music herself. After her violin studies at the Konservatorium Wien, she earned her masters degree in singing at the University for music and arts of Vienna.
She began to study the Feldenkrais method to improve her playing and increase her overall quality of life. Since she is familiar with the daily demands of being a performing artist, she has a clear and practical approach to bring a sense of more ease and enjoyment into movements.
As a trained massage therapist, she specializes in osteopathic techniques, primarily in the field of functional manipulation of fascial tissue. She runs a private practice and teaches the Feldenkrais method in the fields of neurological rehabilitation, burn-out-prevention, trauma rehabilitation and performing arts.
Her students benefit both from her extensive experience as a musician, and from her skills developed through many years of practice in the field of somatic education.
[/vc_column][/vc_row][vc_row padding_top="0px" padding_bottom="0px"][vc_column fade_animation_offset="45px" width="1/1″]
Feldenkrais for musicians
Would you like to discover a new, fascinating way to improve your playing?
Would you like to develop a greater freedom in how to make music?
"The exercises are ingenious and so simple."
Yehudi Menuhin
For the European Music Institute Vienna Lisa Schreiber-Rombach has designed a series of lessons tailored to the needs of musicians:
You will be able to experience the Feldenkrais method in Awareness through movement group lessons twice a week.
Lisa Schreiber-Rombach will also be available for individual lessons in Functional Integration, to target the specific needs of each individual musician.
Feldenkrais lessons can not only help resolve musician's pain and injury, but can also help you discover the ease of being creative and expressing yourself through music in movement.
Awareness through movement (group lessons):
every Tuesday and Wednesday from 09.30 to 11.00 am
11.07.2017, 12.07.2017
18.07.2017, 19.07.2017
25.07.2017, 26.07.2017
01.08.2017, 02.08.2017
08.08.2017, 09.08.2017
Individual lessons:
Every Tuesday and Wednesday between 11 am and 4 pm by appointment
Group lessons (2 x 90 min.): 30 Euro
Individual lesson (50 min): 45 Euro (special offer for EMIV participants)
Combination offer (2 Group lessons and 1 individual lesson): 60 Euro
Please note: The combination offer is only available for booking before June 15th 2017!
[/vc_column][/vc_row][vc_row padding_top="0px" padding_bottom="0px"][vc_column fade_animation_offset="45px" width="1/1″]
Terms and conditions of participation
[/vc_column][/vc_row][vc_row padding_top="0px" padding_bottom="0px"][vc_column fade_animation_offset="45px" width="1/1″]
Prices
| | |
| --- | --- |
| Group Session 11 & 12 July | €30.00 |
| Group Session 18 & 19 July | €30.00 |
| Group Session 25 & 26 July | €30.00 |
| Group Session 01 & 02 August | €30.00 |
| Group Session 08 & 09 August | €30.00 |
| Individual lesson | €45.00 |
More
| | | |
| --- | --- | --- |
| July 9, 2017 - August 9, 2017 | | |
| Group Session 11 & 12 July | €30.00 | |
| Group Session 18 & 19 July | €30.00 | |
| Group Session 25 & 26 July | €30.00 | |
| Group Session 01 & 02 August | €30.00 | |
| Group Session 08 & 09 August | €30.00 | |
| Individual lesson | €45.00 | |
[/vc_column][/vc_row]