Student Hostel ÖJAB-Europahaus Dr. Bruno Buchwieser
Linzer Str. 429, 1140 Wien
The Europahaus Wien is set in a quiet location in a 6-hectare baroque park in the western part of Vienna, 15 minutes by public bus from Schloss Laudon and about 30 minutes from Vienna center, incl 10 minutes walking distance from metro-line U4.
Bus 249/250, bus-stop Wolfersberggasse, 15 min. to Schloss Laudon
Tel.: + 43  1  57666 – 75
Fax: + 43  1  57666 – 78
europahaus@oejab.at
www.oejab.at/… …/wien/drbbuchwieser
Gästehaus Steiner
Pension, Mauerbachstraße 22, 1140 Wien
Tel.: +43 664 6303487
welserhof@utanet.at
Singleroom € 48,
Doubleroom € 34 per person.
10 min. walking distance to Schloss Laudon
2 min. walking distance from S-Bahn Hadersdorf
Pension Anzengruber Wien
Rooms and Apartments Familie Knöll A-1140 Wien – Anzengruberstr.59 Telefon/Fax: 0043/ 1 / 979 22 14 Email: anzengruber@aon.at Check prices and options here: http://www.pension-anzengruber.at/
Tagungs- und Veranstaltungszentrum Europahaus Wien
Bus 249/250, bus-stop Wolfersberggasse, 15 min. to Schloss Laudon Linzerstraße 429, 1140 Wien Tel.: +43 1 57 666 77 Mail: headoffice@europahauswien.at, www.europahauswien.at Singleroom pp/night €62 incl. breakfast buffet Double room pp/night €42 incl. breakfast buffet.
Are you looking for a sophisticated place to stay in the city?
See here some offers from our partner EASY B&B Flats and find the best apartments in Vienna.
Please visit: www.easybnbflats.com.
Just tell them your needs and they will recommend you available apartments. Email: contact@easybnb.at
Tel.: +43 6508220327 or +43 69917747362
Couchsurfing in Vienna
Please visit: couchsurfing.com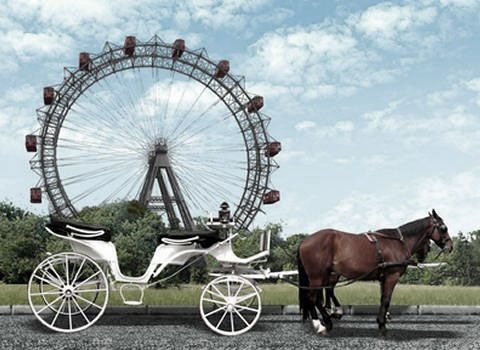 Arriving by plane

Vienna Airport (VIE) connected by S7 train, airport bus or CAT to city center or Bratislava Airport (BTS) connection via direct bus to Vienna. Taxi transport with fixed rates.

Public transportation

Schloss Laudon has two stops for public transport: Bus 249/250 bus-stop Schloss Laudon and S50 train at Hadersdorf train station (10 min. from Wien Westbahnhof). Weekly or monthly tickets are available from Wiener Linien.
Arriving by train

Hauptbahnhof – Central Station or Westbahnhof – West Station are both directly connected to the subway and other public transportation.

Arriving by car

Laudon Palace is located close to Westautobahn A1, Exit Auhof.
Train / S-Bahn
Train S 50 from Wien Westbahnhof to Hadersdorf Bahnhof (12 min), then 5 min walk to Laudon Palace.
Metro / Bus
U4 from Vienna center (Karlsplatz) to Hütteldorf, from there with bus 249/250 to bus-stop Schloss Laudon (35 min).
Taxi
Fixed rates from VIE-Airport:
- Funktaxi +43/1/40100
- airportdriver.at (book online 24 hrs prior to arrival)
Taxi
Just make sure when you enter the arrival hall to turn to the left; after 20 m you will find taxi companies on the right side with fixed rates from 34 - 38 EUR.
Click!
Living Music in Vienna
Vienna is the world's capital of music:
Find inspiration for your art visiting the homes of Haydn, Mozart, Beethoven and Schubert.
Do not miss to visit a typical "Heurigen" – some people insist that you will never understand Schubert if you haven't been there.
Tourist-Info Vienna
Albertinaplatz/Maysedergasse, A-1010 Vienna
Daily from 9.00 am – 7.00 pm
In the Vienna Airport arrival hall
Daily from 7.00 am – 10.00 pm
In the InfoPoint of ÖBB at Vienna Central Station
Daily from 9.00 am – 7.00 pm