[vc_row padding_top="0px" padding_bottom="0px"][vc_column fade_animation_offset="45px" width="1/4″]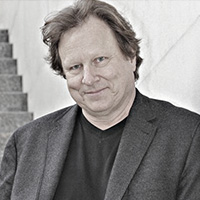 [/vc_column][vc_column fade_animation_offset="45px" width="3/4″]
Piano
Course 23.07 – 02.08, registrations end 15.06.2016
[/vc_column][/vc_row][vc_row padding_top="0px" padding_bottom="0px"][vc_column fade_animation_offset="45px" width="1/1″]
Languages: German, English
Studied at the Hochschule für Musik und Darstellende Kunst in Vienna, and later with Friedrich Gulda and the jazz musician Fritz Pauer. He has performed extensively since 1975, i.e. at important festivals such as Klangbogen Wien, Carinthian Summer, Bregenzer Festspiele, intensive concert activity in Japan, Korea and the USA.
Founder of the Roland Batik Trio and piano-duo with Paul Gulda. He has recorded Mozart's complete piano sonatas, for which he was awarded the "Wiener Flöten-Uhr Record Award" for Interpretation in the year of 1991. In 1999 he recorded the complete 52 piano sonatas by Joseph Haydn.
He has also been internationally recognised as a jazz pianist and composer: engagements with the Musikverein Wien, Jeunesse Musicale, etc. Teacher at the Konservatorium Wien Privatuniversität since 1978. In the year 2000, he was awarded the Kulturpreis of the Land Niederösterreich and in 2002 the title "professor".
[/vc_column][/vc_row][vc_row padding_top="0px" padding_bottom="0px"][vc_column fade_animation_offset="45px" width="1/1″]
Program: the international concert repertoire with special emphasis on the works of Viennese Classics and Second Viennese School
Preparation: at least 3 works by different composers, amongst them at least one from Viennese Classics. For advanced students a piece by a composer of the Second Viennese School would be requested, or a piece from the following composers of the XX. century: Mahler, R. Strauss, Stravinsky, Bartók, Debussy, Britten.
Qualification: adequate mastery of the instrument. Please send in a tone document (CD/DVD/MP3) along with your application.
[/vc_column][/vc_row][vc_row padding_top="0px" padding_bottom="0px"][vc_column fade_animation_offset="45px" width="1/1″]
Terms and conditions of participation
[/vc_column][/vc_row]
Prices
| | |
| --- | --- |
| Regular course | €630.00 |
| Early bird | €590.00 |