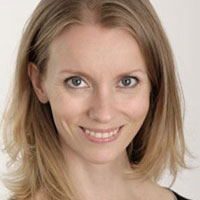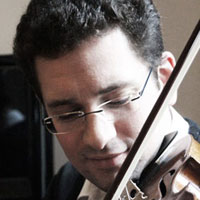 SUZUKI Violin Camp Vienna
Level SUZUKI Book 1-4
Anna Lea Stefánsdóttir, Violin
Gustav Krachler, Violin
Kanako Sekine, Piano Accompaniment
Recreation Pedagogues
Anna Lea
 believes that learning the art of violin playing is one of the best tools a child can get for neural, emotional, and personal development. She believes that learning the language of music, a universal language of emotion, is something all children should have access to. Thus, teaching children and helping parents to facilitate the best environment for optimal growth is one of Anna Lea´s main focus points in life.
Always in search of new ways to learn and improve, Anna Lea has adopted a variety of cross-over activities as integral parts of her violin practice. Health and nutrition, different kinds of Yoga and Meditation all play a key role in her continuing development as a violinist, a teacher, mother and woman.
Anna Lea is a certified Suzuki Teacher and has been teaching children and adults for over a decade. As a child she learned the violin through the Suzuki Method, and completed her studies at the Vienna Conservatory of Music with Prof. Hink (1st Concertmaster of the Vienna Philharmonic) and graduated in 2005 with a Solo Performance Degree and a Pedagogy Degree. Anna Lea has two daughters with whom she is grateful to be able to share the violin. For a more detailed CV go to www.viennaviolin.com
---
For
Gustav
, the musical education of the youth is an affair of the heart and central matter.
Born in Vienna, came to the violin through his grandfather, who was first violinist with the Vienna Symphony Orchestra. At the age of 15, he began to study with Florian Zwiauer at the Vienna Conservatory. Fascinated by the precision and stability of the Russian school, he continued his studies with Prof. Arkadij Winokurov at the Anton Bruckner University in Linz, where he received his Master of Arts degree with a unanimous distinction.
Important artistic impulses he received from Gerhard Schulz and Dominika Falger, as well as from Pavel Vernikov, Gerhard Schulz, Viktor Tretyakov, Alexander Arenkov and Klara Flieder, and last, but not least, from Marina Keselman, Moscow.
Following his family tradition, he has always enjoyed playing in various orchestras like Brucknerorchester Linz and Tonkünstlerorchester Niederösterreich. As chamber musician, he is member of the Godard Piano Trio and the Stratus Quartet and toured to Japan.
Gustav teaches violin and chamber music at the Musikschule Spielstatt in Vienna since 2012, and since 2014 at Musikschule Wiener Neudorf as well as Johannes Brahms Musikschule Mürzzuschlag in Styria.
Since 2012 teaching violin and chamber music at Vienna Summer Music Academy, as well as since 2015 at the Chamber Music Festival at Burg Feistritz am Wechsel. In 2014 he was a lecturer for violin (focus on technical basics) and ensemble at the Spring String Seminar 2014 in Saitama, Japan. In 2017 he was also lecturer at the Suzuki Festival Mürzzuschlag 2017. Jury member of the 2nd Feurich International Competition Vienna 2017.
---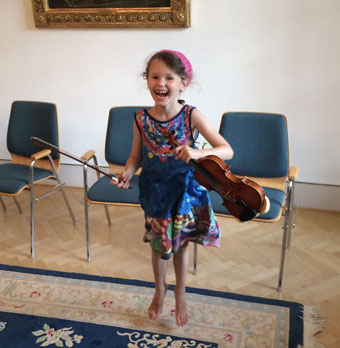 Join us for a week long intensive course for violin in the beautiful gardens of Palace Laudon in the outskirts of Vienna.
The daily program from Monday to Friday consists of intensive and playful group classes with certified Suzuki teachers.
Recreational pedagogues provide the children with daily outdoor activities (indoor if it rains) to support the developing brains and bodies with the necessary exercise and play. Every child also gets a group unit of Rhythm study in Flamenco style.
All children from 4-11 learning to play the violin following the Suzuki approach are welcome. A maximum of 30 children will be accepted.
Program: Group lessons with selected pieces from the Suzuki Violin School repertoire Books 1-4. Additional pieces are studied in the course
General Daily schedule:
09:00-09:15 Morning Circle
09:20-11:55 Group Classes and Outdoor Activities
12:00-13:15 Joint lunch (included in the course fees).
13:15-16:30 Group Classes, Outdoor Activities and Afternoon Circle.
Parents and children will receive a detailed schedule with their classes upon arrival.
Saturday, 14 July, good wheather: 10:30-11:30: Flash Mob at the Mozart House in the Heart of Vienna. 17:30: Concert at a Heuriger and dinner together.
Sunday, 15 July: 9:30-11:00: Dress Rehearsal, 11:30-12:30: Final Concert in Laudon Palace Freskensaal
Preparation: Based of Suzuki Violin books 1-4.
Qualification: The course is designed for children learning the violin through the Suzuki Method age 4-11, but is also open for all other violin kids.
Please note: Parents are liable for their children. For more information, please see below under "Parents Presence on Campus".
Languages: German, English
Dates
| | | | | |
| --- | --- | --- | --- | --- |
| July 9, 2018 | to | July 15, 2018 | | |
More
| | | |
| --- | --- | --- |
| July 9, 2018 - July 15, 2018 | | |
| Regular course | €350,00 | |